Let's face it: not all photographers need the advanced technology and outstanding features of complex photo editors, such as Capture One, Exposure, Luminar, and Photoshop. For most of us, photo editing is a 4-step process of applying a few simple and subtle adjustments. We want to retouch our photos, but we don't need image manipulation tools, complex masks and selections, and AI-based automatic features. And for that, we don't need more than an iPad. But what photo editing apps for iPad produce professional-looking photographs and add value to our work?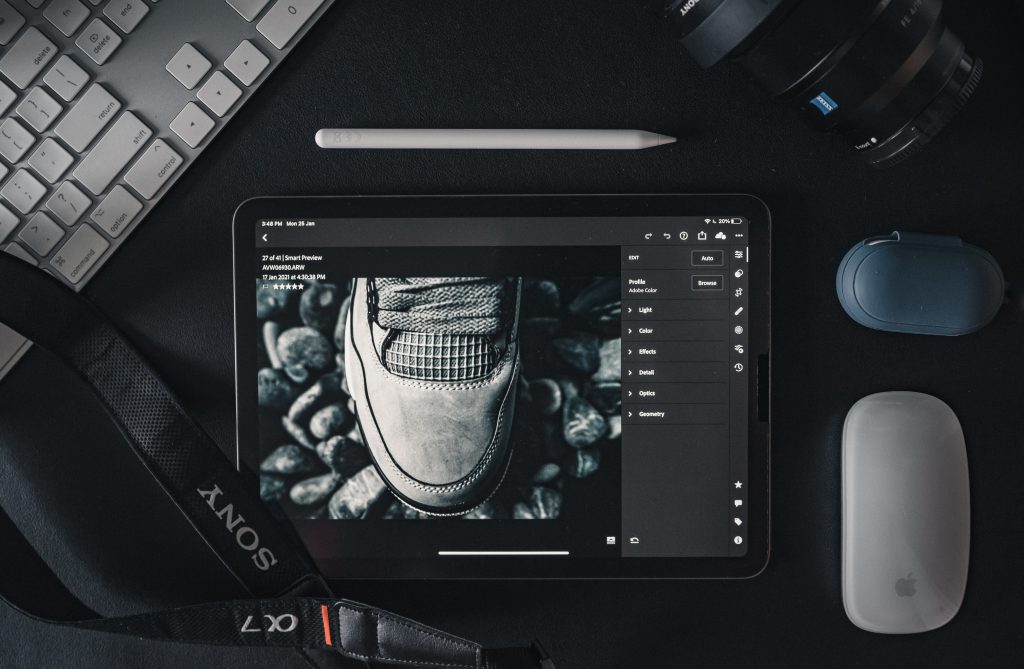 Photo by Albert Vincent Wu on Unsplash
Built-in Apps
Apple Photos is the built-in photo editor on Apple products. So your iPad already has a photo editing solution. However, Apple Photos is designed more for photo management and sharing and less for editing. But suppose you need to apply geometric transformations (e.g., crop, rotation, scale, flip, etc.) or make basic adjustments (e.g., exposure, brightness, contrast, color saturation, tone, etc.). In that case, Apple Photos may be all you need. Add the fact that the app smoothly synchronizes with Apple apps and services, and you have a free pre-installed tool at your disposal.
Available for Download
There are many photo editing apps for iPad available in Apple App Store. Some are paid, some are free. For example, you can download a free Lightroom version for iPad or the free Photoshop Express app (with many graphic design tools). They may have fewer features than the desktop versions, but they provide all the tools to retouch your photos, apply presets, edit RAW files, edit HDR images, and fix any imperfections.
If you already use a desktop version of a photo editor, see if they offer an iPad version. For example, Affinity Photo offers an iPad version that is less expensive than the desktop one but has the same amazing editing tools.
Online Photo Editors
Online photo editors work on any device with a browser and internet connection. And there are plenty of them. Canva, Pixlr, Fotor, and BeFunky are just some of them. There is also an online version for Adobe Express and one for Lightroom. 
So, an online photo editor is a good solution if you are on a photo trip and need a quick fix for a few photos. They provide basic retouches, geometric transformations, presets, filters, and graphic design tools (e.g., frames, collage templates, text, drawing tools, etc.). The drawback is the need to upload your photos, which may raise copyright issues and consider a problem when you don't have internet access.
Conclusion
Photo editing apps for iPad are helpful when you need subtle retouches, quick fixes, and geometric transformations. They are designed to be user-friendly, synchronize with image management and sharing apps, and provide basic editing tools wherever you are (e.g., in a remote location, on a train, etc.). An iPad is easy to carry, takes little space in your photo bag, and can be a secondary camera if needed. Overall, it's a convenient device for a photographer.
Cover photo by Francois Hoang on Unsplash